17
/
Mar
2010
About two weeks ago I had my last company beer/good-bye party at Starbreeze. I need to deal with lots of formal stuff in Poland now, then I'll have a short vacation (flying to Venice next week) and then I will move to Canada to work for Digital Extremes. It really wasn't easy decision as I had great time in Sweden and Starbreeze, but the offer was just too good to pass, one needs to take risks sometimes.
I will miss Sweden and SBZ guys, last 10 months were really cool and I'd like to summarize it in few photos (image heavy post incoming).
Click pictures for bigger size.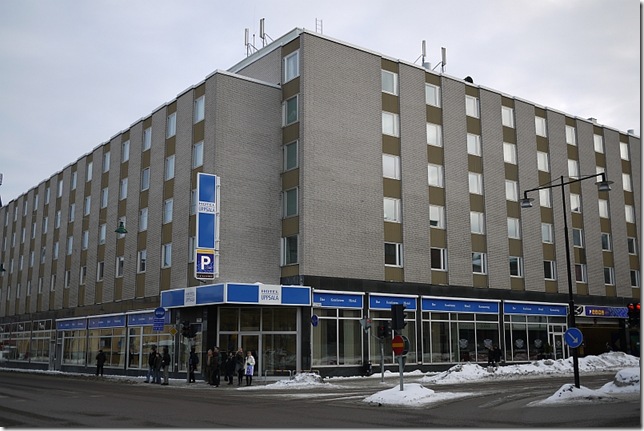 Hotel Uppsala. That's where we were located when I came to Uppsala for the first time, for my job interview in February of 2009. I didn't know I'd later pass by this building every day when going to work.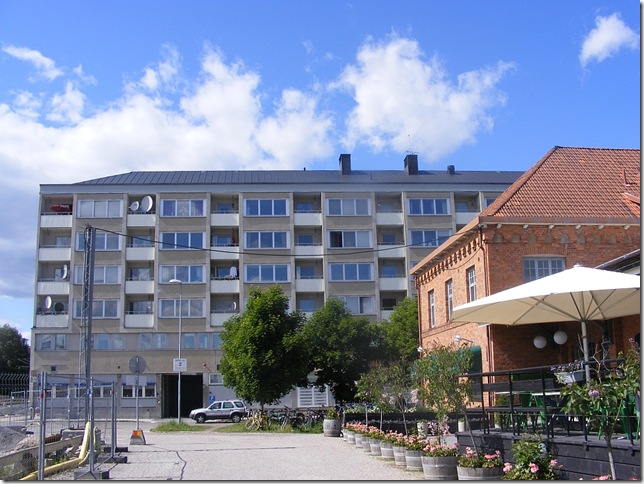 My first flat (building in the background). Actually, it was company's. Starbreeze rents several flats, where out-of-town employees can live until they find their own. I've only lived there for a month. Best thing about this place was it's only 10 minutes walk from the office and in the very center of the city.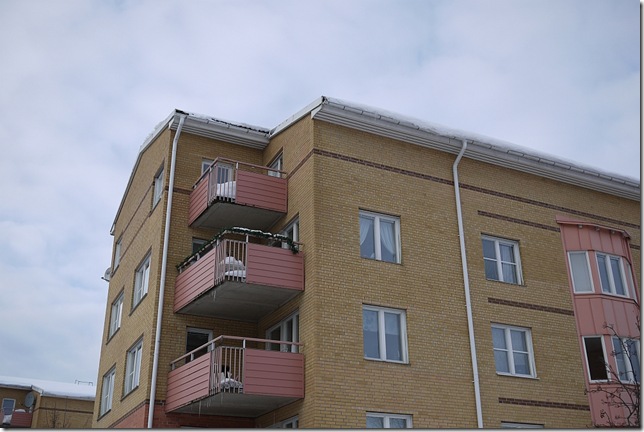 That's my second flat, rented on my own this time (last floor). It was in Stenhagen district of Uppsala. A very nice neighbourhood, lots of trees, little Swedish houses, animals (I met a hare jumping happily near the entrance door once). It took me about 20 minutes to get to the office by bike (great scenic route, they have bike routes everywhere). I wasn't tough enough to ride the bike during winter, but Swedes do it without thinking twice. One our QA guys lives there now, hope he likes it.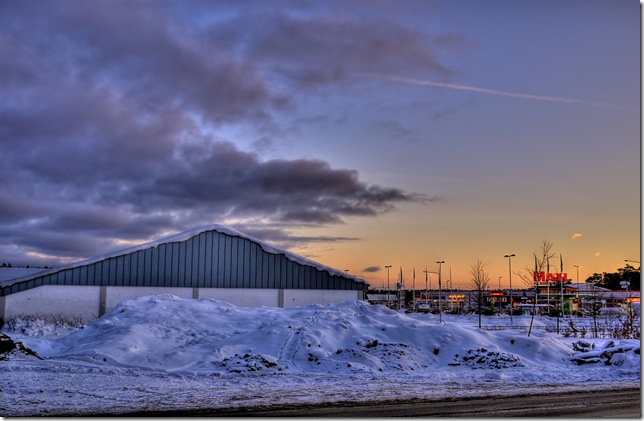 Maxi ICA, the biggest supermarket in Uppsala (to the right, in the background). Fortunately, it was located 500 meters from my flat, I did all my shopping there.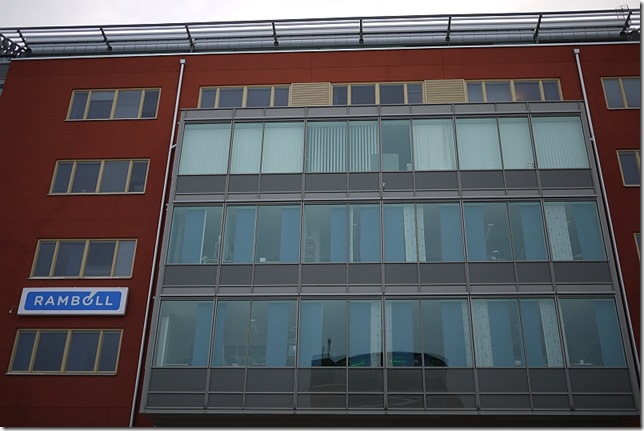 Here's Starbreeze office (top three floors are ours).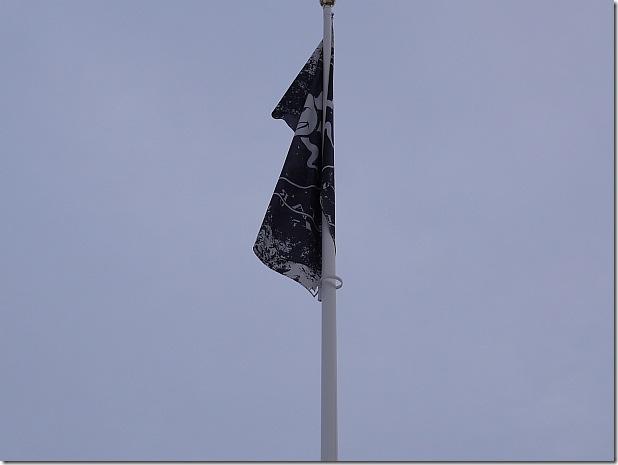 Starbreeze flag (in front of the office). Weather wasn't the best when I tried to take this photo, so it's not fully visible, but believe me - it's cool.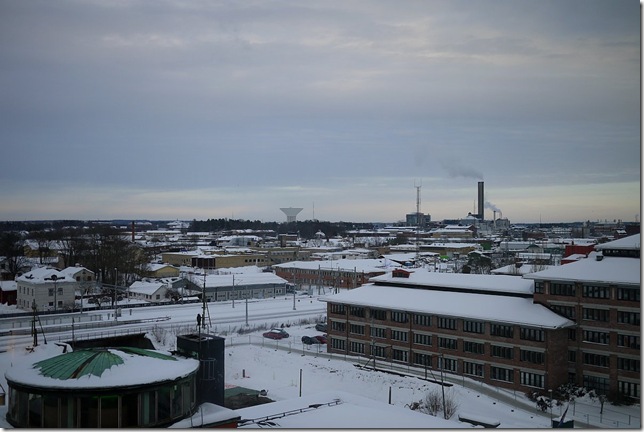 View from the office, east side. I've been sitting on the 6th floor, so the view was nice. There are not many high buildings in Uppsala, SBZ's one is actually one of the highest, balcony view (7th floor) is even better.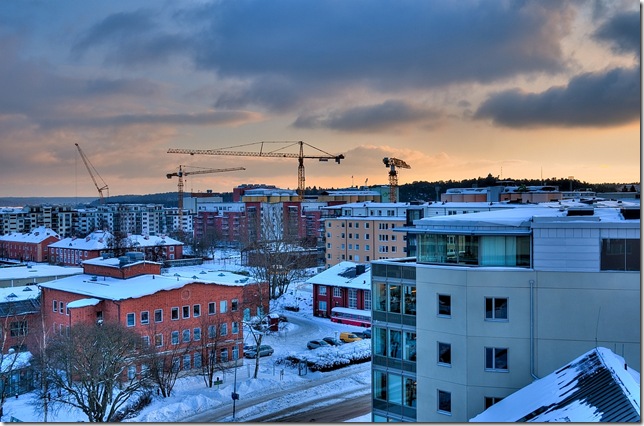 Balcony view, west side.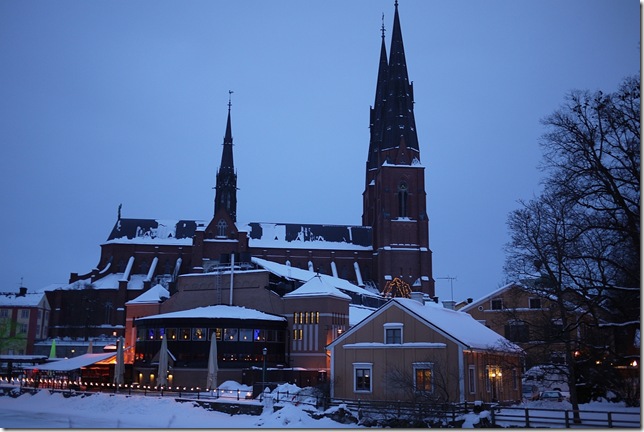 Uppsala cathedral (Domkyrka) in the background. That's probably the most known building in Uppsala.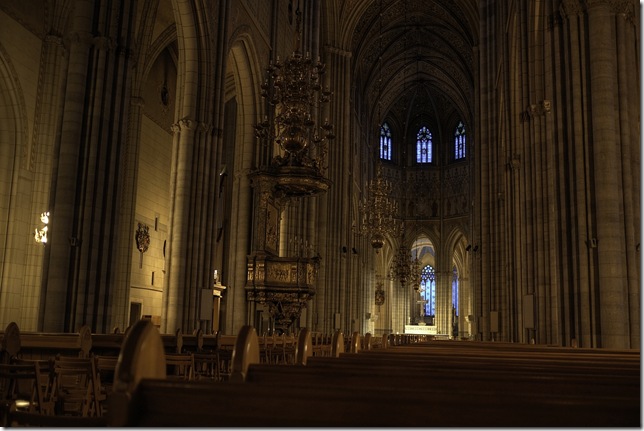 Cathedral inside.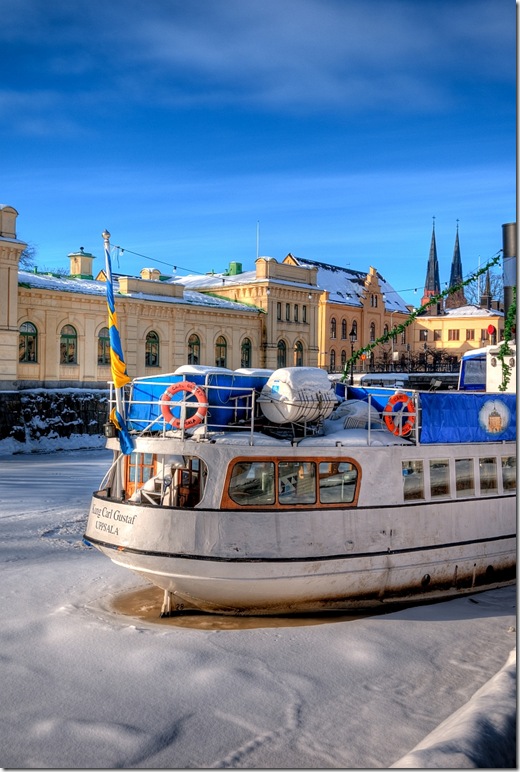 Kung Karl Gustaf boat. For some reason it's one of the first things that springs to my mind when recalling Uppsala.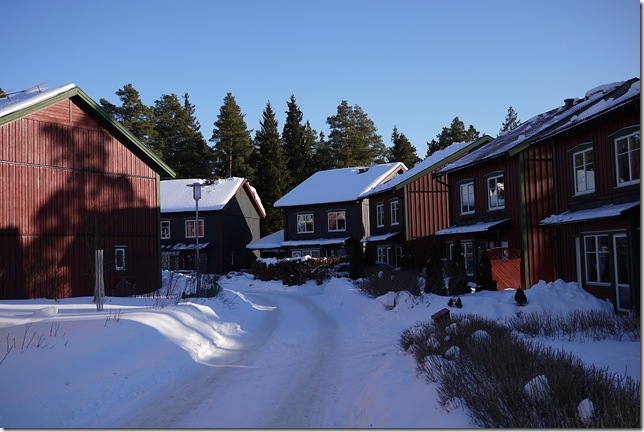 Skogsbyn (I'm not entirely sure if that's proper name, only seen it once somewhere). Just next to my neighbourhood, that's how I've always imagined Sweden.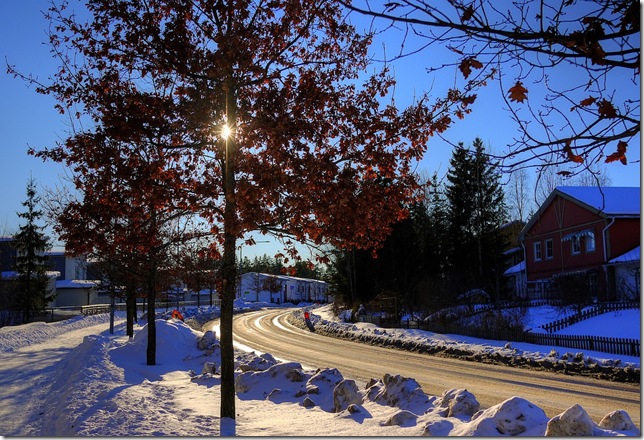 Stenhagen again, one of my last walks.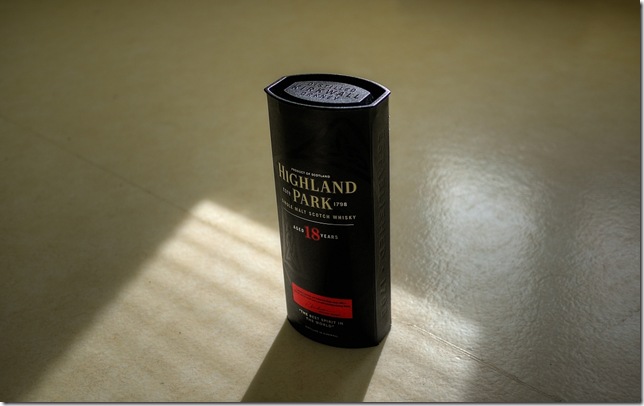 Good bye present. Tasted it already, it's truly delicious stuff. Skål, guys!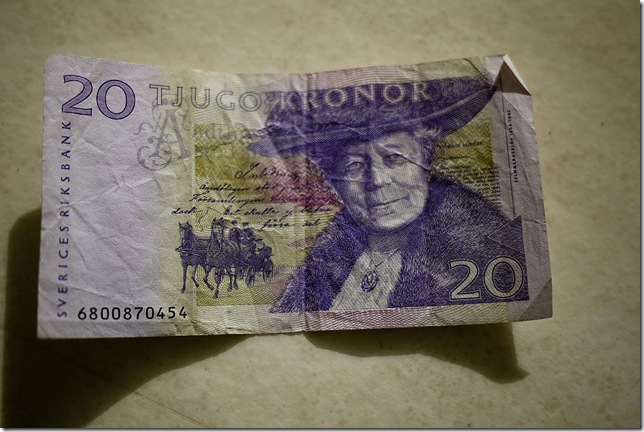 This one is a little bit more symbolic. My lead got it from guys on the other project as a 'payment' for his help. Now I got it from him, hopefully I'll be able to return it one day. Cheers, Patrik!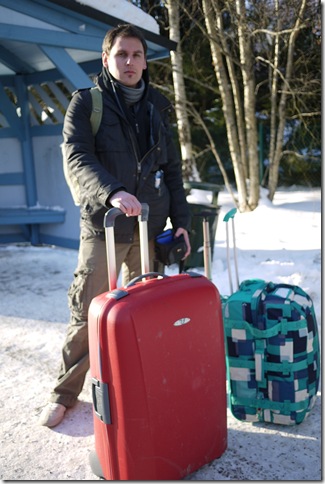 Me, at the bus stop, everything (hopefully) packed, ready to go home.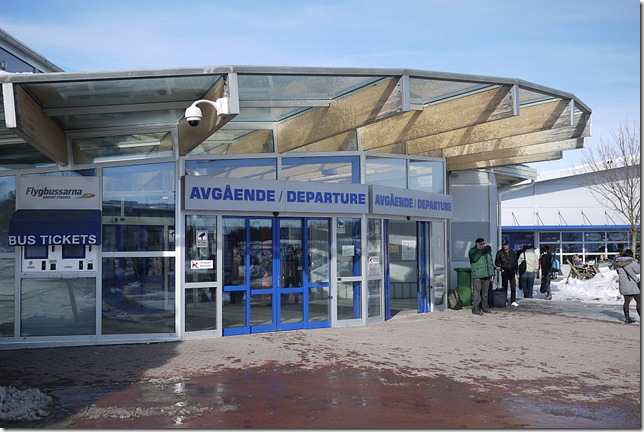 Departure hall of Skavsta airport, our last flight.
If you're interested in even more photos, there should be some in my Picasa album. If you got a chance to visit Sweden by yourself - do not hesitate, it's a beautiful country. Also, if you're a good programmer looking for work – don't think twice, Starbreeze is one of the best places around.
Old comments
Mateusz Loskot 2010-03-19 11:04:09
Canada! Wow! It was always my silent dream. Good luck on the new beginning! I hope you'll keep blogging :-)
Liam 2010-03-19 12:12:54
Good luck in your new job.
"Toffee, honey and cocoa all give complexity, with some chewy peat lingering in the background"
The whiskey sounds delightful mmmm.
Sam 2010-03-19 13:00:32
Hey, I've been a bit of a lurker on your blog. Thought I'd pop up and say something! :)
Is there anyone from Triton still working at Starbreeze? How was the language situation? Was it a barrier at all, or does everyone speak English? I'd like to work somewhere in Europe some time (I'm Australian but actually have an Estonian passport) but thought I'd only be able to work in the U.K. because of the language.
paydead 2010-03-19 13:03:23
Good luck in Canada, hug Caro for me if you meet him there :)
admin 2010-03-19 13:59:32
@Sam: Lizardking's still there. Everyone in the company speaks very good English. In general, it's basically unofficial second language in Sweden. During 10 months I've met maybe 2 people who didn't speak English (well, they did, but not too good). It is also official language in the company (all documents, public e-mails & meetings are held in English). You can easily include whole Scandinavia + Netherlands in your job hunt. BTW, there's an Australian working in Starbreeze right now :)
@Payda: sure thing, Caro's still there.
Glutinous 2010-03-19 17:26:02
Hi Maciej,
I've been following your blog on my Google Reader for quite a long time now and it was a pleasant surprise to find another fellow programmer coming to the same place I work (Digital Extremes)! You have some great stuff on your site and I look forward to working with you. Feel free to drop my an email if you have any questions about London. My name is Steven. :)
caro 2010-03-19 22:54:45
Can't wait the hug! :)
When are you coming to London? We would love to show you around and help with apartment hunting.
Steven, I'm "caro" in case you din't know :) but please don't spread that at work, that will make them think I'm a girl :)
See you soon!
ps. don't be scared by Canadian winter, +18 today :)
admin 2010-03-19 23:32:25
I should be in London on Wed 31st of March, around 8pm (jet-lagged as hell obviously, so I'd wait with walking around to Thursday at least :)
Robert 2010-03-24 10:53:33
Hi Maciej,
It took the office scvangers about a week to loot your desk, your chair was barely cold :D. You will however still be missed and you are allways welcome to get in touch with us or come visit. It was nice having you here.
If it's OK with you I might link to this blog post from the facebook fanpage and our website. I like the personal touch to it.
Take care, and good luck!
/Robert
admin 2010-03-28 22:00:52
@Robert: Heh, actually, RobertT looted my X360 devkit & TV minutes after I logged out for the last time and went upstairs for a company beer(he called dibs on that long time before, though :). Link away!
managed services 2010-11-05 13:05:30
I say this honestly , this is one of the best posts and goodbyes I ever read, and actually it's a bit sad seeing you leave that town. I'll definitely pay a visit there , lovely city , and I hope you enjoy Canada as much as you did here.